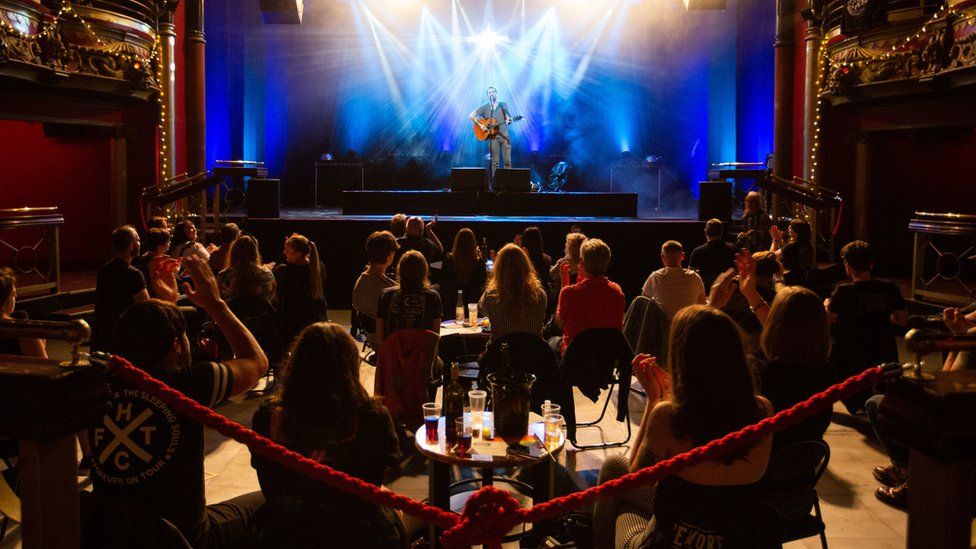 Music venues across England have remained largely silent for the past nine months after the coronavirus pandemic forced them to close their doors. As the unwanted anniversary of a year without live music approaches for some, musician Frank Turner is once again picking up his guitar to help.
"If you had told me back in March last year," says Frank Turner, "that this issue was going to go on for this long I would have been very depressed."
The folk-punk singer has played more than 2,500 gigs in his 15-year solo career and sold out venues across the world, including Wembley Arena.
But he has also performed in scores of small independent venues and credits each one with getting him to where he is.
So when amplifiers and microphones fell silent in 2020, he livestreamed 14 free gigs from his home in aid of those venues, raising nearly £200,000 in donations.
"The bottom line is that venues have not been able to open their doors," says Turner.
"They've not been able to sell tickets, they've not been able to sell alcohol to punters, and therefore their business model remains completely on ice."
Now, as the third lockdown bites, he is restarting his weekly shows in support of the Music Venue Trust's #Savethe30 campaign to help UK venues identified "at imminent danger of permanent closure".
"It's the same predicament that pubs are in but with an extra added layer of awfulness," says Turner.
"It's difficult to exaggerate how difficult it is for these places."
Turner is not alone in his efforts to support struggling businesses and last year the government unveiled the £1.57bn Cultural Recovery Fund (CRF), but not all venues have been eligible.
'It doesn't work without the music'
Opened in November 2017, owner and session musician Ben Adey said he set up The Lantern as "there was never anywhere to play in Halifax".
The purpose-built, 130-capacity venue – which Turner will perform in support of later – was unable to apply for a grant as it had not been trading for long enough.
Mr Adey said it had been "successful, going well", before Covid hit.
"Everything just stopped, there was nothing coming in, but the rent and the overheads don't stop," he said.
An attempt to reopen as a bar when restrictions allowed was not viable.
"It was built as a live music venue as opposed to being a bar," he said.
"Without the live music element it just doesn't work."
A crowdfunding campaign launched last year has so far raised more than £20,000, and Mr Adey said he hoped Thursday's show would help with "getting to dry land" and give people something to look forward to.
'Twenty people better than none'
Elisabeth Carley-Leonard owns The Shed, in Leicester, which has been closed since 20 March due to extra restrictions in the city.
"We were hoping to raise maybe £5,000 or £6,000 and it kept going up and up; even after the livestream finished donations kept coming in. I still get goosebumps thinking about it," she said.
The funds raised "took the pressure off significantly" and "made the world a better place for a fleeting moment", she added.
However, with monthly overheads nearing £6,000, the money soon went and the joy of not having to make staff redundant in April became a "horrible" reality in September when the venue had "about £20 left in the bank account".
But, the following month it was awarded a £50,000 grant from the CRF.
Ms Carley-Leonard now has her sights set on reopening on 1 April "come hell or high-water" to mark the fourth anniversary of the Shed's reopening under her stewardship.
She hopes to welcome punters back to the venue on Friday and Saturday nights at first, though with capacity reduced from 100 people to 20.
She said she was trying to see lockdown as a chance to "start from scratch", adding: "Even if it's only 20 people at a time, that's better than no people."
'When can we have live music back?'
The 150-capacity Windmill, in Brixton, is another venue named on MVT's "at risk" list and was also ineligible…


Source Website Covid: Frank Turner livestream gigs for struggling venues return